City officials: Hotel project by Midtown's Fox Theatre sets example for 'better architecture in Atlanta'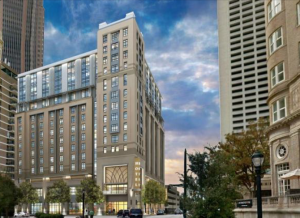 City officials are touting the collaboration on a planned hotel by Midtown's Fox Theatre as an example of "better architecture in Atlanta."
Top Atlanta developer Noble Investment Group is planning the dual-branded Marriott hotel on an existing surface parking lot at Peachtree Street and Ponce de Leon Avenue. The other three corners at the intersection house historic buildings: the Fox, Georgian Terrace hotel and the Ponce Condominium.
When the design for the hotel was revealed to Midtown Alliance in January, the nonprofit group said: ""In light of the architecturally significant neighboring buildings, the committee requested that the design team continue to develop the façades to be more consistent within the surrounding context."
In March, the city's Department of City Planning began working with Noble to hone the design to respect the historic intersection. It resulted in a new façade design for the hotel, based on recommendations from the Midtown Alliance.
Charleston, S.C.-based LS3P Associates Ltd. completed the revised design and renderings.
"It is critically important that Atlanta expect more from its designers and more of its buildings," City Planning Commissioner Tim Keane said in a media release.
"Zoning can only take you so far," he added. "Regulations don't make great buildings, only design can do that. We intend to work in a productive way with developers like we did with Noble to improve the architecture in all of Atlanta."
Noble had first proposed the project back in May 2016.
According to plans submitted in January, the hotel would have four floors with 154 rooms under the Marriott Courtyard flag and four floors with 128 rooms under the Marriott Element brand. The hotel would sit above five levels of parking.
It would also have a ground-floor restaurant, along with a lounge and bar with a second-floor terrace overlooking the Fox Theatre.
Noble is partnering with Interpark Holdings on the project, according to the Midtown Alliance.
Lindsay Pope Brayfield Clifford & Associates is the architect. That firm also designed the dual-branded Hilton hotels at 10th and Williams streets.
"We wanted a building that represented the fabric of Midtown, and one that our community would be proud of," said Ben Brunt, principal and executive vice president of Noble Investment Group. "This collaborative approach benefited all of us. We are thrilled with the result."
By
Amy Wenk
–
Staff Writer, Atlanta Business Chronicle