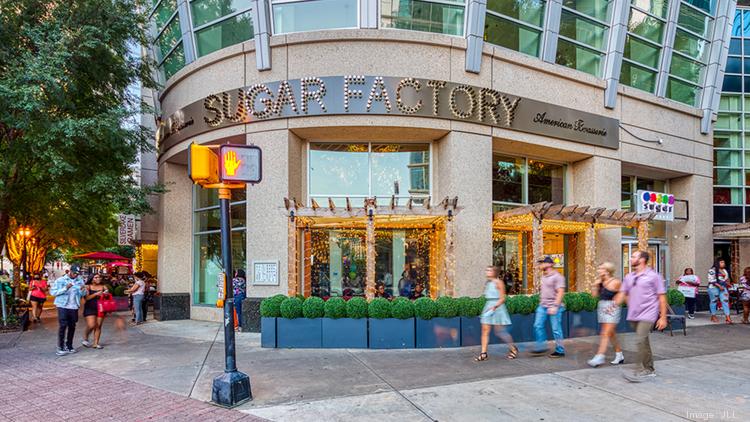 A real estate investment firm just paid the highest price in years for a single Midtown retail center.
East Coast Acquisitions, a Florida-based real estate investment firm, has purchased street-level retail and a parking garage at 1010 Midtown along Peachtree Street Northeast for $38 million.
Anchored by Sugar Factory and Piedmont Healthcare, the development also includes Better Homes and Gardens Real Estate, Chipotle, Panera Bread, RA Sushi Bar, Sage Dental, Silverlake Ramen and Sweathouz.
The deal represents the highest standalone transaction for Midtown retail space in about a decade, said David Kahn, Southeast director of market analytics at commercial real estate research firm CoStar Group.
The center sold far above the average 12-month sales price of $5.7 million for Midtown retail sites, according to CoStar. The property sold for $15 million in 2013, according to the research firm.
The 44,302 square feet of street-level retail sits at the base of a 425-unit luxury condo building. The tower, which stands over 11th and 12th streets, was not included in the sale. The retail portion of the development, completed in 2008, is 94% leased.
More than a decade ago, the original owners of 1010 Midtown marketed the project as an anchor of the "Midtown Mile," a retail corridor along a stretch of Peachtree Street intended to become Atlanta's version of the Magnificent Mile in Chicago.
It makes sense for the retail center to trade at a premium, given the area's strong demographics and tenant roster, Kahn said. More than 216,000 people visit the 2-mile radius around the property each day, according to JLL.
Most of Midtown's retail and parking income used to be generated by its daytime office population, but that's no longer the case, said Chris Wild, principal at East Coast Acquisitions, in an email. "… Midtown has transitioned into a live, work, play environment, increasing the productivity cycle for both retail and parking," he said.
Wild added that several new developments will soon replace surface parking lots in the area, which will steer drivers to the onsite garage acquired by his company.
The transaction comes at a time when companies offering high-paying jobs open new offices in the area, bumping up the demand for retail space as new residents move to the area. The submarket is experiencing a 1.7% retail vacancy rate, lower than at any other time in the past decade.
Compared with other parts of metro Atlanta, Midtown has few contiguous retail spaces, Kahn said. "It's very difficult to build new retail there, so existing properties are pretty valuable," he said.
Updated