Top business leaders are lining up to support the Westside Future Fund, a high-powered umbrella organization that's been formed to coordinate the planning, fund-raising and revitalization efforts in the communities west of the Mercedes-Benz Stadium now under construction.
Written by Maria Saporta for Atlanta Business Chronicle
Oct 16, 2015, 6:00am EDT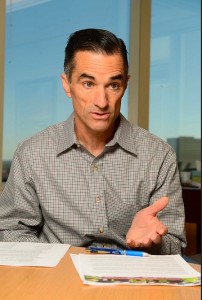 Westside Future Fund Chairman Richard Dugas, CEO of PulteGroup Inc. (one of Atlanta's newest Fortune 500 companies), sat down with Atlanta Business Chronicle on Oct. 14 for his first in-depth interview about the initiative since he was tapped to lead the effort last December.
In the past 10 months, the Fund has hired Quince Brinkley as its executive director, raised about $1.5 million for its initial operations, formed its board and started putting together a strategy of how to attract new investment and improve the quality of life in Vine City, English Avenue, Castleberry Hill, the Atlanta University Center and Ashview Heights.
"This is not a community redevelopment effort," Dugas said. "This is a community revitalization effort. We will have failed if we have displaced anyone."
The Fund is taking a multi-pronged approach towards the Westside. It is working with the numerous partners who already have been investing in the neighborhoods, and it is hoping to serve as a coordinator and facilitator in making sure everyone is working collaboratively rather than independently.
"I see our role as taking all the tributaries and turning them into a river," Dugas said. "We want to play a coordination role, to serve as a community quarterback."
When the Fund was formed, the idea was to have a neutral entity that could coordinate "the good existing efforts already underway and not care who got the credit," Dugas added.
The Westside Future Fund was an outgrowth of the Atlanta Committee for Progress, the blue-ribbon business group that works with Atlanta Mayor Kasim Reed on the city's top initiatives.
At the last ACP meeting, Reed said that in addition to Chick-fil-A Inc., The Home Depot Inc. and the Blank Foundation had pledged at least $250,000 each to support the operations of the Westside Future Fund. Dugas said Pulte Homes also has made a similar commitment.
To support the operations of the Westside Future Fund through the end of 2018 — staff, rent, administrative costs as well as consulting services — Dugas said the board needs to raise a total of $4.5 million.
The Fund also is putting together a comprehensive plan for the entire area that will incorporate the multitude of more targeted plans that already have been done for the Westside. The scope will be education, economic development, public safety, housing and land use as well as health and well-being.
Dugas said he appreciates the skepticism that exists both inside and outside the Westside communities, based on what has happened in the past.
"I have been educated about the false starts," Dugas said. "I'm committed that we will not do that again. We feel a strong obligation to not let people down again."
That's one reason Dugas wants to be sure the Fund is working from a comprehensive plan before the Fund starts implementing projects on an ad-hoc basis.
On the top of his list is community engagement. Dugas is well aware that that population in those five neighborhoods has fallen 55 percent between 1970 and 2010–from 41,000 to 18,000, and he said the most important constituents are the residents in the community. That's why he wants to make sure this effort is done right.
"We are in this for 20 to 30 years," Dugas said. "This is not a short-term — raise a bunch of money — and leave. It's going to take a long time. We are acutely aware the community is skeptical."
Another top priority is respecting the unique history of those communities. For example, the home where Martin Luther King Jr. was living when he was assassinated is on Sunset Avenue in the heart of Vine City. "The Westside Future Fund is very committed to preserving the historic integrity of the entire west side, including historic properties," Dugas said. "Our goal is to make sure that unintended consequences don't occur."
Dugas asked for patience as the Fund's leadership puts all the pieces in place.
One of the initiatives that could have the greatest impact is what Dugas is calling a "social responsible acquisition fund." The idea would be for the Westside Future Fund to set up a vehicle whereby people could make a low-margin investment to a social fund that could be used to acquire blighted properties that could either be renovated or rebuilt.
"There are executives and corporations in town, like Jeff Sprecher, sitting on the sidelines, watching the Westside Future Fund's ability to manage a social responsible acquisition fund and are willing to make sizable contributions to the overall effort," Dugas said.
If the Westside Future Fund can work through those, Sprecher, CEO of New York Stock Exchange-owner InterContinental Exchange Inc., has pledged to invest $5 million into such a fund. Because that kind of contribution is more like a loan than a donation, Dugas said it could be a way for the entity to raise a significant amount of money in a short period of time.
"There's a lot of momentum from a lot of foundations and corporations," Dugas said. "The reality is that there's a lot of excitement around the Westside, and our goal is to have a catalytic impact over the long-term."
CLOSER LOOK
The existing partners include:
– The Arthur M. Blank Family Foundation, which has pledged $15 million towards revitalizing the Westside–primarily by investing in human capital;
– The city's economic development agency Invest Atlanta, which also is investing $15 million on primarily physical improvements in the community;
– The Chick-fil-A Foundation, which just announced that it is donating $300,000 to the Westside Future Fund and building a Chick-fil-A store on Martin Luther King Jr. Drive;
– Families First, which will be moving its headquarters to the to the historic E.R. Carter School;
– Westside Works, which is creating job training and employment opportunities for Westside residents, placing 216 individuals in living-wage jobs;
– Friendship Baptist Church, which is building its new sanctuary in the community and has more extensive plans to invest in the area;
– City of Refuge, which is planning to expand its community footprint to the areas adjacent to its home base on Joseph E Boone Boulevard; and
– The Atlanta Police Foundation, which is installing security cameras, launching neighborhood security patrols and working with Pulte Homes and the Blank Foundation to have Atlanta police officers live in homes in the area.