In October 2012, City Realty was hired by the C.F. Foundation to help re-enliven four vacant corners at Hosea Williams and 2nd Avenue. After three years and countless proposals, the four corners are now coming together in what promises to be a lively community center containing offices and at least six restaurants. Below is the article about it that came out yesterday written by Josh Green for Curbed:
Plans to revive a tired East Lake intersection with several commercial ventures and spiffy new architecture are barreling ahead. All four corners of the intersection, dubbed "Hosea + 2nd" for its cross streets, are in for big changes, beginning with the northwest quadrant, where a former gas station is being transformed into the third Greater Good BBQ outpost, which plans to open this spring. Now, a development team that includes the owners of Fellini's Pizza and La Fonda Latina has inked James Beard-nominated pastry chef, Aaron Russell, and his wife, Jamie Russell, to open a neighborhood restaurant and bar on the southeast corner of the intersection (see above and after the jump).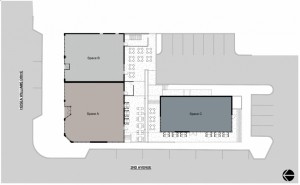 The concept, which will eventually be joined by two others on that corner, is called "Poor Hendrix" after the couple's rescue dog. Expect "perfectly prepared classic dishes that compliment an affordable, but thoughtful wine list" and small plates in the bar, officials said.
Across the street, developers closed last week on the acquisition of a third corner (northeast), where plans are being finalized. The C.F. Foundation, an organization that's worked to revitalize East Lake since 1993, has plans to activate the remaining southwest corner.
(You can read more and explore the site plans for all four corners at hosea2nd.com.)