Cushman and Wakefield analysis classifies Atlanta BeltLine as "one of the largest regional economic drivers in the metro's history"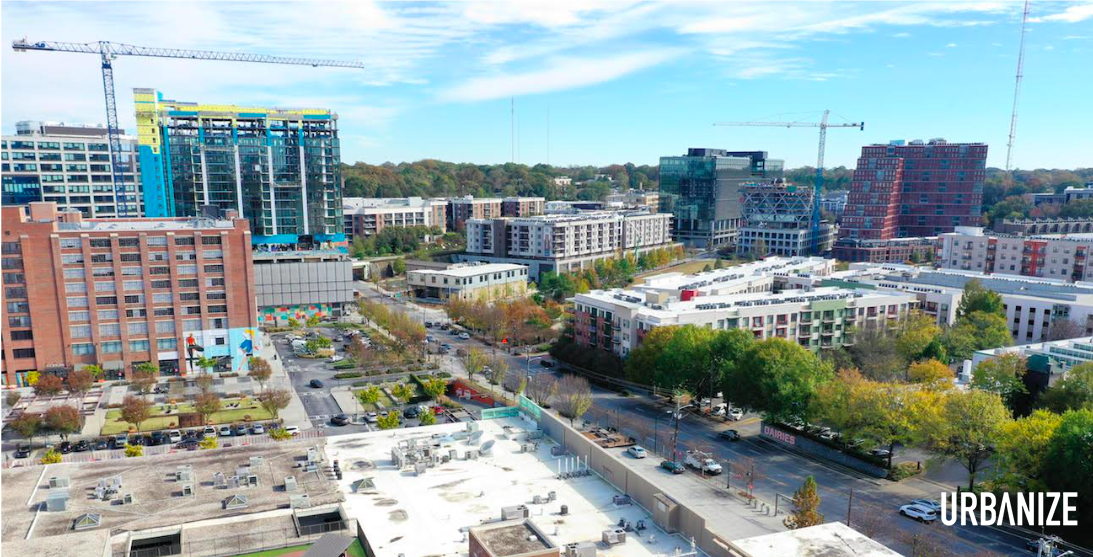 Whether you embrace it as an urban redevelopment dreamscape, don't care enough to visit, or land somewhere in between, there's no denying the Atlanta BeltLine has irrevocably changed the city's trajectory in ways that'll probably be felt by Generation Z's grandchildren.
A new analysis by global real estate services firm Cushman and Wakefield, fittingly titled "The BeltLine Boom," helps put changes the multi-use trail has spurred into context, drilling down on the two most popular segments to date: the Eastside and Westside trails.
Ten years after the first stretch of Eastside Trail debuted, followed five years later by the bulk of the Westside Trail (where Congressman John Lewis helped cut the ribbon), Cushman and Wakefield's analysis broadly describes the BeltLine as "one of the largest regional economic drivers in the metro's history."
Despite gangbusters development and recent economic turbulence, the report generally finds that demand for new space near the BeltLine of almost all types—multifamily, offices, and retail—has yet to slow, and that the 22-mile loop is "propelling revitalization of Atlanta's urban core."
For instance, considering inventory within a .75-mile radius of the Eastside Trail, analysts found that almost 8,300 units now exist in 73 multifamily buildings—and that 94.6 percent of them are occupied. (That's higher than Atlanta's multifamily occupancy rate overall, 92.7, as of the fourth quarter of 2022, which excludes new buildings in their initial lease-up phase.)
Another seven buildings are in the development pipeline near the Eastside Trail, bringing 1,522 more units to the micro-market, per the firm's findings.
Helping to lure in those tenants is 2.6 million square feet of retail that's now set up shop near the Eastside Trail alone, according to Cushman and Wakefield. (For context, that's twice the square footage of Bank of America Plaza, the city's tallest skyscraper.)
Office tenants, meanwhile, have been eager to pay premiums to establish themselves adjacent to the Eastside Trail, forking over average prices of almost $50 per square foot—or 61 percent higher than the metro average of $31.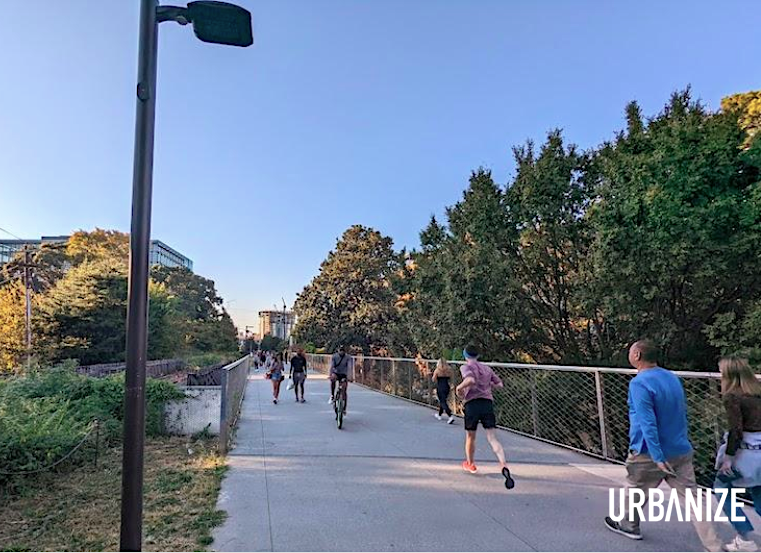 The Eastside Trail now counts about 2.4 million square feet of office inventory across 20 buildings—with a significant chunk of that coming last quarter with Fourth Ward Offices' initial phase (493,000 square feet), which the report notes is already 71 percent leased to MailChimp/Intuit and WPP Group.
On the flipside of downtown, the Westside Trail's offices have also commanded a premium, with tenants paying an average of nearly $36 per square foot, or almost 16 percent higher than the metro average for offices. Since 2021, office rates have exploded by 378 percent near that section of the BeltLine, the report found.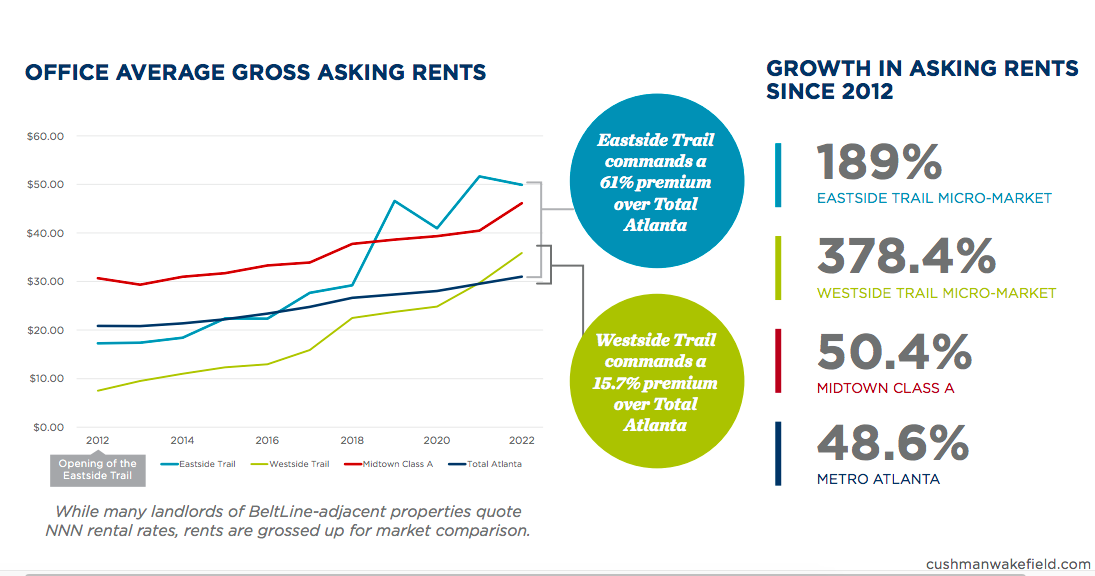 In terms of living options (that aren't standalone houses), analysts tallied 2,198 multifamily units in the inventory near the Westside Trail, with more than 1,000 more units in various states of delivery right now. That includes housing at the Murphy Crossing by Culdesac project and a mixed-use proposal covering 7 acres along the trail in Oakland City.
Big picture, Cushman and Wakefield noted the BeltLine is on pace to attract up to $10 billion in economic development and 50,000 permanent jobs by its scheduled completion in 2030.
For Atlantans who view price hikes as a negative, the report also mentions that Atlanta BeltLine Inc. is more than halfway to its goal of creating 5,600 affordable housing units by the end of this decade, by way of new projects like Parkside in Bankhead, a stone's throw from the Westside Trail corridor.
MARCH 27, 2023, 8:06AM
By JOSH GREEN
Urbanize Atlanta