After 45 years in Atlanta, Post Properties Inc. is building its first apartment project downtown.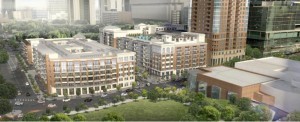 Atlanta-based Post (NYSE: PPS) is breaking ground today on a 438-unit apartment building it calls Post Centennial Park, which will be in walking distance of two downtown MARTA stations and the Atlanta Streetcar. The $96 million project will include units that average about 808 square feet and roughly $1,620 a month, the company said. Ten percent of the apartments will be designated workforce housing, with rents averaging about $1,090 a month.
In a statement, Post CEO and President Dave Stockert said the project reflects the ongoing downtown Atlanta renaissance. Since the recession, downtown has emerged as a stronger center of tourism and entertainment, and Georgia State University has continued to expand throughout the area.
Post also maintains an important shift in residential development that started several years ago just after the recession ended. Since then, apartment developers have concentrated most of their new Atlanta projects in dense urban areas such as Midtown or Buckhead or neighborhoods including the Old Fourth Ward where people can live and work next to the Beltline. The areas are usually in walking distance of transit and near amenities such as shops or restaurants. Post is building its project near the Civic and Peachtree Center stations but also tourist destinations such as Centennial Olympic Park and Philips Arena.
Post and developers such as Paces Properties Inc. have bought into downtown's potential to generate apartment demand, especially as Georgia State University enrollment grows and more students want to live downtown after graduation. Land in other parts of the city is also becoming more expensive, potentially making downtown a more affordable option for developers seeking projects in dense urban settings.
Written by Douglas Sams for Atlanta Business Chronicle