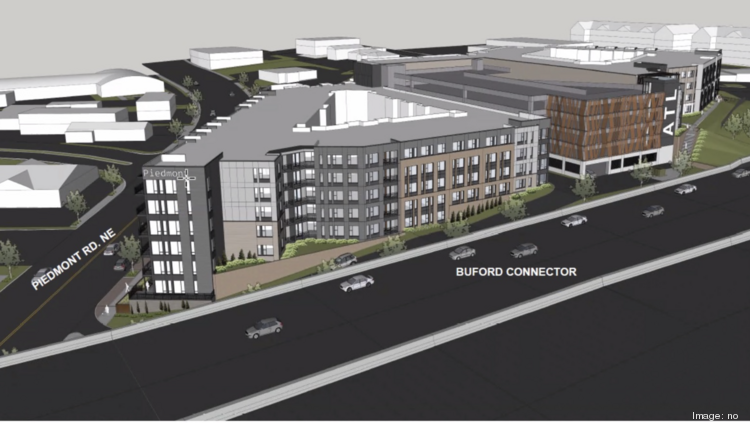 Nearly 400 apartments are planned to be built on the site of the vacant InTown Suites in Piedmont Heights adjacent to the Buford Spring Connector.
A California developer plans to replace a shuttered extended-stay hotel near the Beltline with almost 400 apartments.
Fairfield Residential is proposing to demolish the InTown Suites at 1944 Piedmont Circle and build 392 apartments. A roughly 500-space parking deck is also planned.
Fairfield needs the OK from the Beltline Design Review Committee before it can start the redevelopment. The committee will be tasked with preserving a piece of Atlanta history — stone stairs on the site of the new apartments that once led to the home of Edwin Plaster.
His family was among the area's first settlers in the early 1800s. A historical marker commemorates "Gold Tooth John," the Plaster's handyman who built the steps.
The steps and historical marker are located where a new sidewalk for the apartments would go.
The marker's inscription commemorates the Plaster family for its contributions, including construction of Plasters Bridge Road, now known as Piedmont Road. The inscription, which also credits Gen. William Tecumseh Sherman for being the originator of urban renewal in Atlanta, is about 90% humor and 10% history, according to an online description. As for Gold Tooth John, history says his ghost wanders the halls of the Intown Suites, a former Holiday Inn from the 1960s.
The InTown Suites has been an eyesore in Piedmont Heights, one of the neighborhoods the Beltline runs through. It stands next to the Buford Spring Connector and near Ansley Park. Midtown Bowl is also close by.
Paces Properties, behind such projects as Krog Street Market, Atlanta Dairies and Stove Works, purchased InTown Suites in 2016 for $8 million. In 2018, Paces went before the Design Review Committee with plans for an adaptive reuse of the property. The project was to include Atlanta's first Bunkhouse hotel.
The city issued a permit in 2019 to Bunkhouse Atlanta Hotel to gut and demolish the interior and much of the exterior but to keep the main framework of the building intact. The demolition permit expired at the end of 2019. In February, the city issued a stop-work order.
The Piedmont Park Civic Association's website includes a summary of a recent meeting with a Fairfield representative. Fairfield is under contract to buy the site from Paces Properties.
By 
Dyana Bagby
   Reporter, Atlanta Business Chronicle, Atlanta Business Chronicle