A Texas billionaire is claiming millions of dollars of his money was fraudulently used to develop the Emory Proton Therapy Center now under construction in midtown Atlanta.
Written by Douglas Sams and Ellie Hensley for Atlanta Business Chronicle
Oct 9, 2015, 6:00am EDT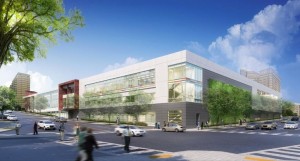 Kelcy Warren, founder of Dallas-based natural gas pipeline giant Energy Transfer Partners, claims in Texas court filings the developer of the Emory Proton Therapy Center, Advanced Particle Therapy LLC of San Diego, Calif., improperly transferred $40 million, much of it from Warren. The proceeds were allegedly used as a "piggy bank" to fund other proton therapy centers.
"APT then transferred the funds it took from [business entities in Dallas] to its separate entities in Baltimore and Atlanta, where the funds were presumably used to develop those separate proton therapy centers," Warren claims in a Sept. 24 court filing in federal bankruptcy court in Dallas. (To read one of the court filings, click here.)
APT's proton therapy center in Dallas filed for Chapter 11 bankruptcy on Sept. 17. Warren had loaned $20 million to APT for that center.
Warren's claims are another challenge for the $200 million Atlanta project, which has already fallen months behind.
The 107,000-square-foot Emory Proton Therapy Center broke ground a little over two years ago on Ponce de Leon Avenue at Peachtree Street, just a block from Emory's Midtown hospital. At the May 2013 ground breaking, Mayor Kasim Reed called the launch of the center a "moment of auspicious beginnings."
The project was supposed to be completed by November 2016, but Advanced Particle Therapy is now targeting a January 2017 completion date. For now, the project is about 85 percent complete.
In a statement, Advanced Particle Therapy indicated the legal issues surrounding the Dallas project would have no effect on its progress in Atlanta.
"Dallas Proton Treatment Holdings and Dallas Proton Treatment Center are separate entities from the Atlanta project," said Ashley Preisinger, an APT executive director leading development of the Emory Proton Therapy Center. "Major building construction on the Emory Proton Therapy Center is complete. The next phase of the project is delivery, installation and clinical acceptance of the equipment leading to first patient treatment."
Preisinger added, "The Emory Proton Therapy Center is committed to this project and its ability to deliver cancer treatment to the metro Atlanta area."
The proton center would be staffed by physicians from Emory University's Winship Cancer Institute and Emory Healthcare. Asked about the issues involving APT, Emory Healthcare issued a brief statement to Atlanta Business Chronicle, saying, "Emory is set to operate the proton center once it opens."
For now, Warren's allegations give the appearance the Atlanta project is in trouble, said David Smith, a president with Kearny Street Consulting Inc. "If they're trying to use funding from Dallas across the board and that wasn't part of the agreement I would say they're in trouble in general," he said.
Smith also noted the legal issues come during a critical point in the Atlanta project ­— financing the purchase and installation of its equipment.
The centerpiece is a 9-by-12-foot cyclotron, an incredibly dense piece of high-tech machinery that uses powerful magnetic and electrical fields to accelerate protons — highly energetic subatomic particles — that can be focused precisely on cancer cells. It's not clear what the machine costs, but the company expects to secure $120 million to $150 million in senior debt for the second phase.
Earlier this summer, APT CEO Jeff Bordok said the company has raised $47 million in convertible equity and $72.4 million from its capital partners for the Midtown proton center. It also entered advanced talks with lenders to finance the second phase, including the purchase of equipment and its installation.
The new legal issues linked to the Midtown project raise the question of whether Emory will have to step up financially to get it moving, Smith said. "Emory has deep pockets. They may be able to find a donor or [pony] up on this, but it's a big ask to get that type of money."