The Atlanta City Council voted Monday to take the first step toward potentially converting a controversial homeless shelter at Peachtree and Pine streets into a facility for police and fire department operations. Council members voted 13-1 to spend $50,000 on a feasibility study of turning over the building to the police and fire departments, a process that will include a title search and an appraisal of the property.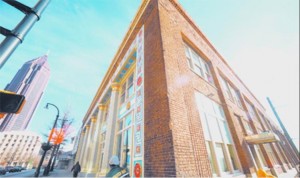 The city, Central Atlanta Progress Inc. and other parties have been trying for years to evict the Metro Atlanta Task Force for the Homeless from the building. A lawsuit accuses the task force of failing to make payments on the property and of "warehousing" homeless people. However, the Georgia Supreme Court issued a ruling last month granting the task force the right to have a jury decide whether an attempt to foreclose on the property was illegal.
Supporters including the task force's leaders, pleaded with council members before Monday's vote not to shut down what one speaker described as the largest homeless shelter in the South. One-quarter of the homeless people currently housed there are women and children, task force Executive Director Anita Beaty said. "We need your help to protect the women, children and men who live with us every day," she said.
Councilwoman Felicia Moore, who voted against the ordinance, questioned the wisdom of the city getting involved in an ongoing court case. But Councilman Alex Wan, chairman of the Finance/Executive Committee, said the ordinance simply provides for a feasibility study. Before any acquisition of the property by the city could go forward, the issue would have to return to the council, he said. Indeed, the council approved an amendment introduced by Moore prohibiting any sale of the property to the city without council approval.
Written by Dave Williams for Atlanta Business Chronicle
Picture Source: Byron E. Small