New Apartments at Centennial Olympic Park latest indicator of heated rental market
August 24, 2015 7:00pm
By David Pendered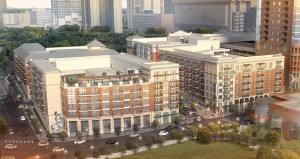 (An apartment structure is to be built near Centennial Olympic Park starting sometime in the fourth quarter, Post Properties President/CEO Dave Stockert said in an earnings call. Credit: lrk.com)
The reason behind the construction boom of rental apartments in metro Atlanta is evident in the numbers – rent rates were up by a record-setting, year-over-year 7.8 percent, and investors are earning returns of up to 7.75 percent, according to data in a recent report from CBRE Research.
An apartment building near Centennial Olympic Park could be the next big project to come out of the ground. Dave Stockert, Post Properties' president and CEO, said in an Aug. 4 earnings call that he hopes to begin construction sometime in the fourth quarter. A proposal unveiled last year showed a structure with 407 apartments.
Here's how Stockert described the multifamily market:
"We continue to like how the housing market has developed. Obviously, you've seen homeownership has dropped to a level we haven't seen in decades. The first-time homebuyer market is still pretty benign. Average economic occupancy for apartments nationally is very strong. The new product that's getting added – and I think this will be the case through the rest of the cycle, a lot of that particularly in the urban markets, is very, very high-end. It's expensive per unit. It's going to have higher rents, so I feel like it creates a little more headroom for us."
Stockert pointed to one project to illustrate the company's positive outlook on the multifamily sector:
"Our high-rise at Post Alexander is a terrific example of what we can achieve, with strong early leasing at rents that are more than 10 percent above our pro forma. That development is on track to produce an initial yield north of 7 percent, creating substantial value."
Post now has $370 million worth of projects in the pipeline and intends to buy back $100 million of common stock over the next year or so, Stockert said in an edited transcript of the call. Stockert said the stock prices are trading at a discount to the net asset value. PPS closed at $56.92 Monday, down from a high of $63.34 in January, with a market cap of $3.15 billion, according to wsj.com.
The nation's apartment market has heated as home ownership has dipped to the lowest level since 1967 – 63.4 percent of the nation's residents. Ownership has fallen during the past 20 years in all age brackets except for 65 years and older, according to CBRE.
Provided that developers don't oversupply the market, rental rates in the region are expected to continue to rise in the near term and vacancy rates should remain below historic trends, according to Paul Berry, a CBRE executive vice president who oversees multifamily investments.
CBRE forecasts show a stable direction for returns in all classes of apartments in the region. The company expects the demand for apartments to remain strong for the next 20 years.
Atlanta achieved the highest overall return among the major apartment markets, Berry said. The region's current vacancy rate is 6 percent, down from the high of 11 percent recorded in 2009.
Investors certainly are jumping into the metro Atlanta market. Multifamily sales volume is up 53.6 percent in the region, compared to the same time last year. That figure is well ahead of the national sales volume, which is up 38 percent compared to the previous year, according to CBRE.
Here are the returns that have attracted investors:
Multifamily infill, stabilized properties with quality tenants on long-term leases:
Class A – 4.5 percent to 5 percent;
Class B – 5 percent to 5.5 percent;
Class C – 6 percent to 6.5 percent.
Suburban multifamily, stabilized properties:
Class A – 5 percent to 5.5 percent;
Class B – 5.5 percent to 6 percent;
Class C – 6.25 percent to 6.75 percent.
Value add properties offer even greater returns. These are properties with problems, such as high vacancy rates or physical obsolescence, which investors buy, repair, and typically flip to investors who prefer stabilized properties.
Here are the return rates:
Multifamily infill, value add properties:
Class A – 5.5 percent to 6 percent;
Class B – 6 percent to 6.5 percent;
Class C – 7 percent to 7.5 percent.
Suburban multifamily, value add properties:
Class A – 6 percent to 6.5 percent;
Class B – 6.5 percent to 7 percent;
Class C –7.25 percent to 7.75 percent.