Dollars, people pour in as once-industrial area becomes one of city's hottest
Updated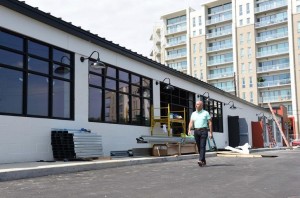 Frank Buonanotte, founder of The Shopping Center Group, is redeveloping Westside Ironworks into restaurants and shops. Credit: Joan Vitelli
Hundreds of millions of dollars are pouring into the Westside, which has transformed in recent years from a rundown industrial space to a hip, walkable community that ties together Midtown, Buckhead and downtown.
In the last decade, $1 billion or more has been invested in the Westside, saidMichael Phillips, president of Jamestown, who teamed up with Westbridge Partners to redevelop one of the key projects in the area, White Provision. Chris Faussemagne, principal of Westbridge Partners, said at least $250 million in projects have come online since 2012.
Several developers with projects in the area likened it to New York City's Meatpacking District.
"It's a former industrial area with that used to have a lot of large warehouses and manufacturing uses, and it's changing," said Scott Selig, vice president of Selig Enterprises. "A lot of residential units are going in, a lot of retail, restaurants and entertainment. It's becoming a place for people to live, and it's very close to downtown, which makes it appealing."
The West Midtown Design District, which is located west of Interstate 75, east of Marietta Boulevard, south of Collier Road and north of North Avenue, expanded its footprint for home furnishing-based businesses in the late 1990s, when a new round of retailers like Bungalow Classic, Kolo Collection and Poliform Atlanta opened in the area. This offered a shopping alternative for wealthy Buckhead and Midtown residents, who before had few better choices than Phipps Plaza and Lenox Square mall. The converted warehouses with their brick walls and exposed ceilings stand in stark contrast to more sterile glass-and-steel buildings along Peachtree.
In the years since, the Westside has become a model of new urbanism, as well as a destination for dining, living and entertainment.
Faussemagne said one reason the neighborhood has grown so much is the Marietta Street Artery Association, a small group that pushed for land-use changes and developed a master plan for redeveloping the industrial area while keeping its character intact. The neighborhood association of Home Park, the area's largest constituent neighborhood, also created a master plan in 2002 that is credited for shaping the Westside.
Several adaptive reuse developments have become the core of the neighborhood. A pioneer in the Westside is the King Plow Arts Center, which was redeveloped in 1990 from a plow factory into loft offices, a music venue called Terminal West, art galleries and a restaurant. Westside Provisions District grew out of Westside Urban Market, a shopping and dining locale redeveloped by TuckerMott Cos. in 1998, and White Provision, which opened in 2007 with more retail, restaurants, office and residential space.
"With White Provision, what's interesting to me is going back to the mid-2000s, what we were doing was still really entrepreneurial creative space combined with good operators on the retail/restaurant side," Faussemagne said. "In the 10 years since, it's really changed to much larger companies and corporations looking to have offices there, and more national retailers are looking to be in that area. I think it's a combination of the old buildings and the nontraditional corporate atmosphere."
Jamestown is currently expanding White Provision to make room for 14,000 square feet of additional retail space for three new stores.
Next to the Westside Provisions District is another upcoming multi-use development, Westside Ironworks, an $8.5 million project by Frank Buonanotte, founder of The Shopping Center Group, and Jeff Stein, founder of The Stein Group. It will convert two industrial buildings into 19,000 square feet of swanky restaurants and shops, including sushi restaurant O-Ku, furnishing store Dixon Rye and lunch spot Tom + Chee.
"During the last big real estate boom was the beginning of the evolution of the Westside from a design district into something more," Buonanotte said. Another huge multi-use project in the pipeline is Stockyards Atlanta, a venture ofWestbridge Partners and the Martin family, a long-time Atlanta landowner whose projects include Brickworks on Marietta Street. The roughly $30 million project will transform three warehouses, two of which were meat-packing facilities built in the early 1900s, into 130,000 square feet of retail space and office space, which the Westside is still sorely lacking.
Stockyards is scheduled to be completed next summer.
Fifteen years ago, residents in the area were hard-pressed to find somewhere to eat that didn't have a drive-thru, but today the neighborhood has everything from casual to upscale dining concepts. Buonanotte said he has found in conversations with restaurateurs that eateries on the Westside tend to fare better than those located along the Peachtree corridor in Midtown.
"I think it's because of the authenticity and the character here," Buonanotte said. "I think it's cooler to go into a basement space like Ormsby's and have the exposed brick… I think people find that more appealing than a white box in a glass building."
Chef Ford Fry has bet on the Westside three times — in 2007, he opened JCT. Kitchen & Bar in the area, in 2013 he opened The Optimist and last month he opened Marcel Steakhouse in the old Abattoir space.
"Everyone in the Westside is really high quality in all elements, so that is what's so good about it," Fry said. "Before there weren't as many people living in the Westside, but the population has really skyrocketed in the last five years."
Apartment projects are also growing in the Westside at a frenetic pace. The 197-unit Elan Westside, the 250-unit Walton Westside and Perennial Properties' The Brady, which has 230 units, all have opened in the past year. According to The Reid Report, there are five projects with a combined 1,304 units underway, with at least three more projects planning to break ground next year.
The Allen Morris Co. is currently going through a rezoning process for a 410-unit project at Howell Mill and 11th Street that will wrap around Northside Tavern.
"Our design is going to be in keeping with the neighborhood's industrial chic look," said Allen Morris, chairman, president and CEO of The Allen Morris Co.
In keeping with the neighborhood's creative nature, several art galleries have opened in recent years. Westside Cultural Arts Center, a 15,000-square-foot events space, and Collective One Gallery, a 4,000-square-foot art gallery, opened in 2014, and founder Dr. Jim Chappuis has also purchased the majority of the block bounded by 10th Street, Howell Mill, 9th Street and Brady Avenue for future redevelopment.
"The Westside is one of the few areas in this city that has a sense of place," Chappuis said. "We're going to have a footprint here that we think is going to anchor this area."
Development of the Westside moved outside of the core area recently when Topgolf Midtown opened a 65,000-square-foot store on Ellsworth Industrial Boulevard.
Because there are no definite boundaries of the Westside, it's impossible to know its population. But the proliferation of new residential space and resulting traffic gridlock makes it clear that the population is growing. This presents the biggest challenge for developers, company owners and residents alike.
"I think it's interesting that when we started this 15 years ago, the initial plan was 'how do we get people over here?'" Faussemagne said. "There wasn't any traffic, just abandoned industrial roads. Today the first question is, 'how will this impact traffic?'"
Kevin Green, president and CEO of the Midtown Alliance, said his group is in the process of putting together "the most robust, multi-modal plan" it's ever put together for Midtown proper, which includes improving its connection to the Westside, which is separated from it by the downtown connector.
"All corridors have the potential to be transformed," Green said.
Restriping Howell Mill Road to add a turn lane and a bike lane could go a long way to ease congestion, Selig said. And when development of the Beltline eventually expands into the Westside, it will play a huge role in the neighborhood's future by offering residents a new way to get to other parts of the city.
The Westside has a very distinct look, but its biggest issue apart from traffic is arguably how it defines itself, including picking a single name to go by. It's known by some as the Westside, but to others as West Midtown or Midtown West.
"We have struggled with marketing and branding over the years," said Shaun Green, a senior transportation engineer for Atlanta Beltline Inc. who helped draft Home Park's master plan. "For the most part I think 'the Westside' is a fair statement."
As long as the Westside continues to grow, it probably won't settle on definitive boundaries for itself, either — but Green doesn't see that as a bad thing.
"It's this huge land area that people want to associate themselves with, and it creeps and becomes larger than the boundaries are," he said.
There are few available parcels left in the Westside core, so its growth outward is likely to continue.
"I think the demand is going to be there for years to come," Buonanotte said. "While the neighborhood has changed dramatically over the past few years, there's a lot more that can be changed… There's opportunity and demand, and the only thing in my mind that will slow that down is if the economy slows down significantly."
Current apartment projects
West Midtown Heights by The Worthing Cos. – 244 units, 17th Street and Bishop
1854 Defoor Avenue by First Guaranty Management Corp. – 236 units, 1854 Defoor Ave.
Accent Waterworks by Westplan – 181 units, Northside Drive NW
The Local by Pollack Shores Real Estate Group – 361 units Mecaslin and 14th Street
Westside Heights by the Worthing Cos. – 282 units