More than 200 rentals and retail are delivering near Publix, Drew Charter School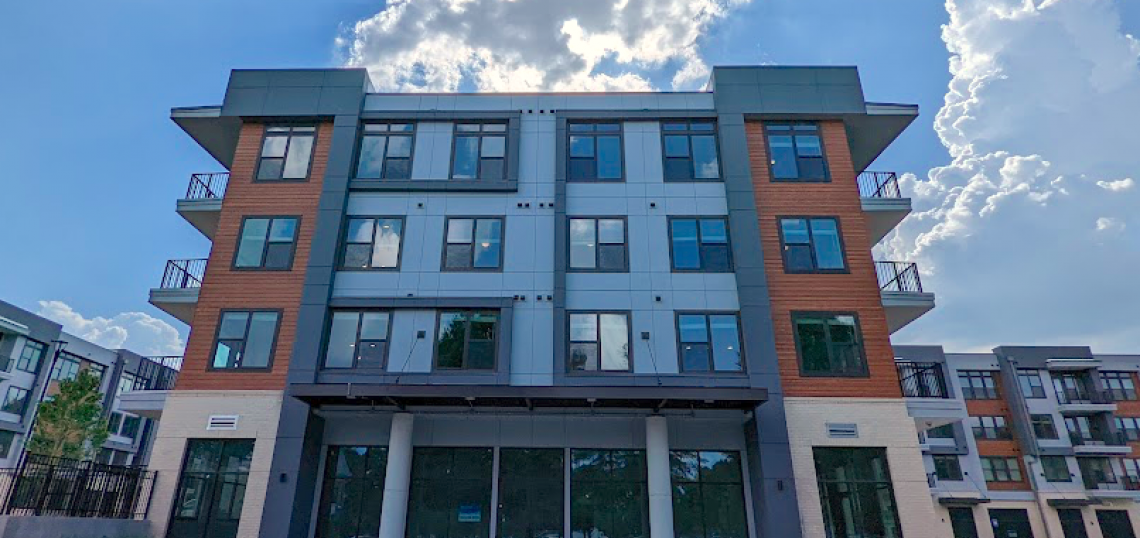 Leasing efforts are underway at a mixed-use project that continues a surge of new living options in a pocket of DeKalb County that's lagged other eastside areas in terms of growth.
Situated between East Atlanta and the storied East Lake Golf Club, Perennial Properties' Ella is the largest of a handful of residential projects to crop up near the Glenwood Avenue corridor. The property had been a vacant lot for well over a decade.
According to plans obtained last year, Ella is bringing 230 apartments, 10,000 square feet of retail, and office space to 2201 Glenwood Avenue, as designed by Dynamik Design architects.
Ella's apartments range from studios up to a unique seven-bedroom option (yes, seven). Four retail spaces have been slotted in next to the Publix at East Lake.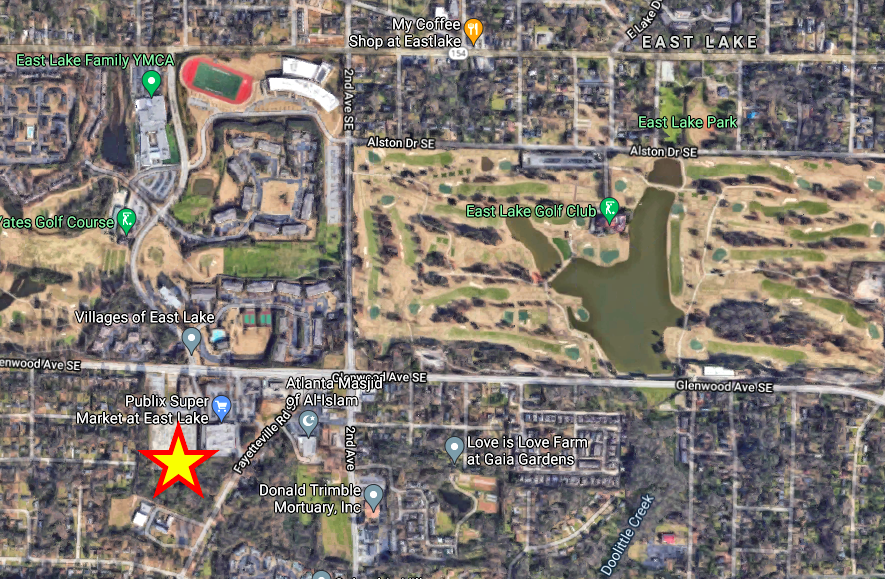 The Ella project's location just south of Charlie Yates Golf Course and Drew Charter School campuses, with East Lake Golf Club at right. It joins a growth spurt of other mixed-use and single-family home ventures in the area. 
Communal amenities include a pool with sun shelf, media wall with outdoor TVs, a game room, a rec area with cornhole, a clubhouse with a bar near the pool, and a requisite pet spa, among other features.
The apartments include quartz countertops, keyless entry, stainless-steel appliances, vinyl floors described as "luxury," and carpeting called "plush."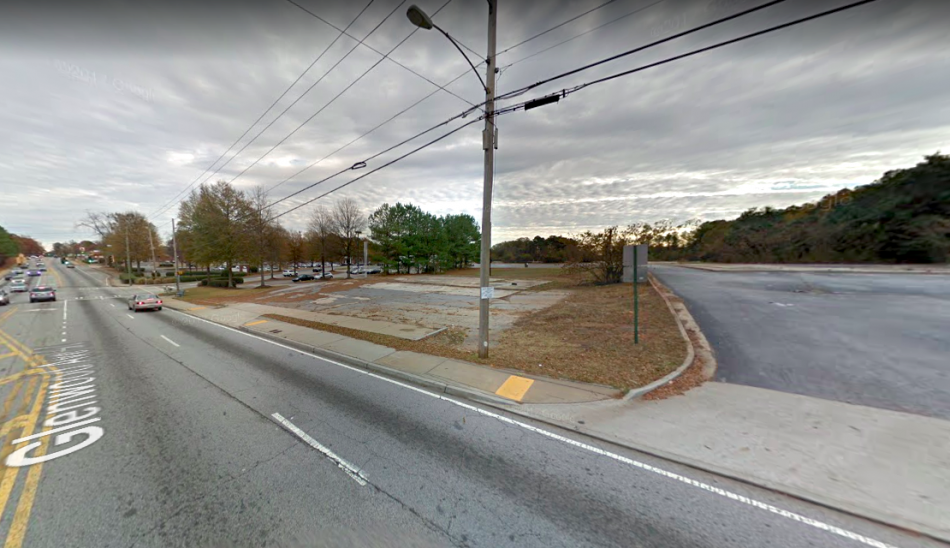 How the East Lake site looked prior to construction, five years ago.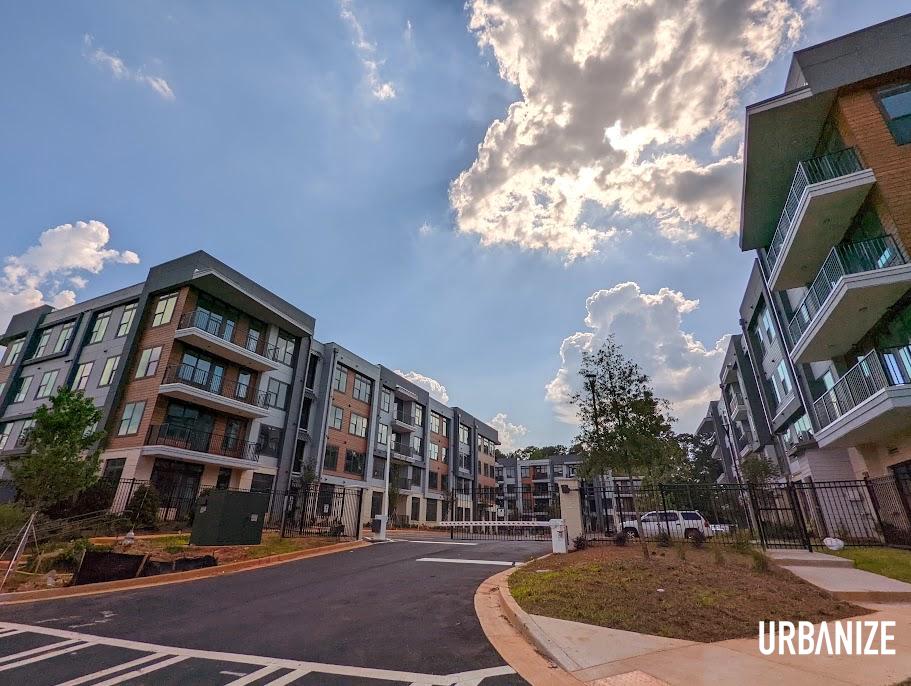 The community's entrance near the East Lake Publix.
Rents at Ella begin at $1,405 monthly for pint-sized studios with 464 square feet. One-bedroom options begin at $1,605 monthly, and two-bedrooms at $2,215.
The seven-bedroom, Real World-esque co-living space has more than 3,200 square feet across two levels. As with the three-bedroom options, the co-living space isn't listed as being available yet.
Like the Publix next door, another perk of the location is quick proximity (walkability?) to two golf courses, including the Charlie Yates links across the street.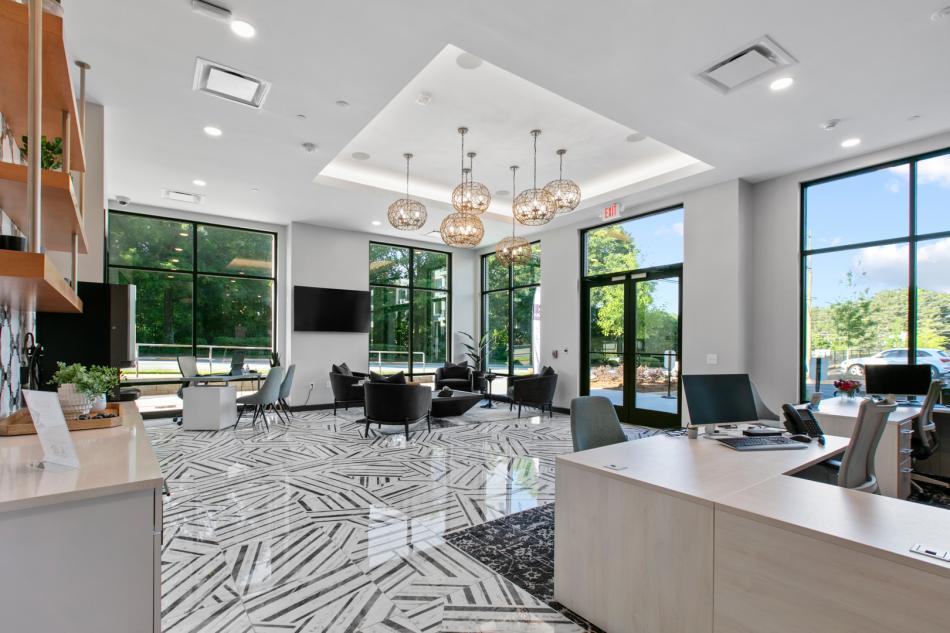 The Ella lobby.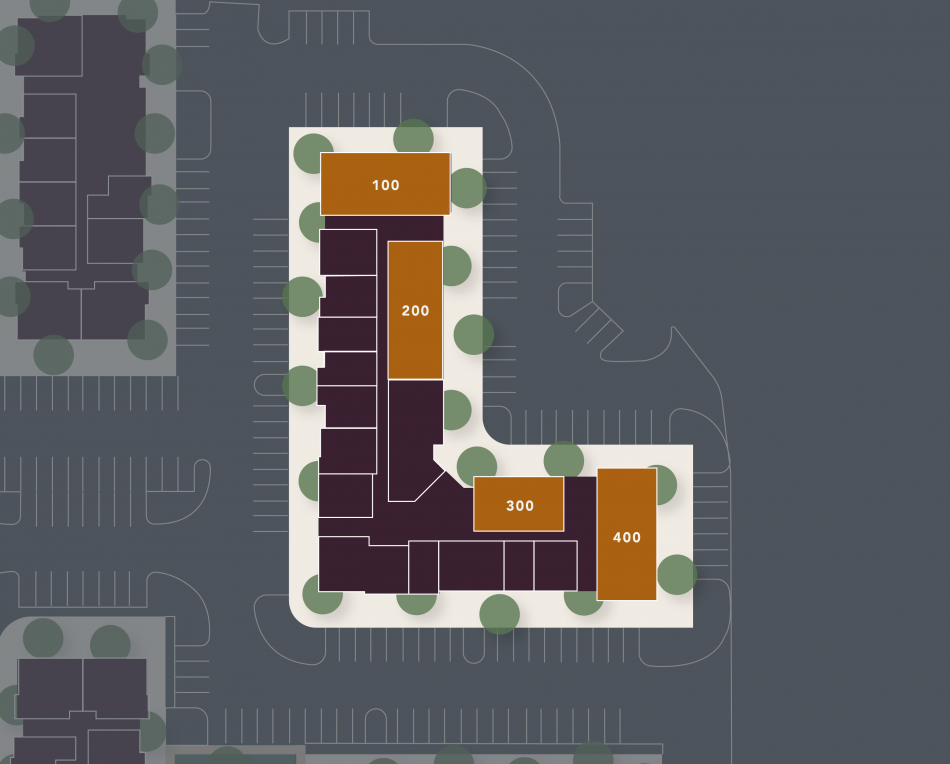 Where four retail spaces are available near the Publix parking lot at Ella. Perennial Properties
The activity continues a push by developers and homebuilders southeast of Atlanta into DeKalb County, just beyond the neighborhood limits of East Atlanta, Kirkwood, Gresham Park, and East Lake, among other communities.
Immediately south of Ella, Columbia Ventures has built 108 affordable and market-rate townhomes, garden apartments, and villas in a project called Gardenside at The Villages of East Lake along Fayetteville Road.
Developed in conjunction with Purpose Built Communities, that gated complex includes a playground and priority placement at Drew Charter School for residents with K-12 children. Options range from one to three-bedroom residences, per Columbia Ventures.
Just south of both sites, Urban Craft Homes built and sold out a community of 35 single-family homes called The Forest at East Lake, also along Fayetteville Road. Situated beside a creek on 10 acres, those houses were priced from the low $400,000s.
All of the above could seem like small potatoes if Perennial Properties' plans to transform 12 acres of grassy fields into a mixed community with nearly 300 apartments and townhomes come to fruition nearby.
Called the Bag Factory, that project is planned along 2nd Avenue, about two blocks south of East Lake Golf Club's Hole 4. The site has been empty for decades, developers have previously said.
JUNE 16, 2022, 9:24AM
By JOSH GREEN
Urbanize Atlanta