The first land sale Cushman & Wakefield Managing Director Matt Hawkins brokered in Midtown fetched around $35 a square foot. This was in the mid-'90s. The buyer, the now-President and CEO of Novare Group Jim Borders, paid $6 million for around four acres on Peachtree Street.
In December of last year, a private equity giant broke the city's record price paid per land square foot for a site just down the street from Hawkins' first sale. The buyer paid $555 per square foot for three-quarters of an acre. In 2018, that same plot of land sold for $138 per square foot.
Within the last half-decade, growth throughout Midtown has transformed the district's real estate into one of the most valuable commodities in the city. Land values are soaring, and brokers like Hawkins are seeing double the amount of offers on sites within the 1.2-mile district. But real estate opportunities aren't running out any time soon.
As the development momentum continues, investors are having to approach site selection with an eye for creativity. Sites once considered undesirable to build ambitious projects are now crown jewels in the increasingly site-constrained Midtown core.
"There's no such thing as built out when you're talking about any city," said Kevin Green, the President and CEO of Midtown Alliance, the district's planning and development coalition. "The sites get more challenging. Maybe some existing structures that you get used to cease to exist. But it's going to continue to change."
Take the underused lot next to the century-old St. Mark United Methodist Church, where StreetLights Residential is building a 26-story apartment tower. Or a U.S. Post Office at West Peachtree Street worth $25 million where Rockefeller plans to build a 61-story mixed-use tower. The definition of a "prime site" has changed. Almost anything is fair game.
Where conversations over the redevelopment of unconventional sites intensifies, however, is when the potential demolition or densification of neighborhood landmarks is brought into question. Projects have yet to move forward on the largely-underused parking spaces at The Varsity or the sprawling acres on WSB-TV's campus at West Peachtree Street, but it's only a matter of time before the development wave leads to increased interest.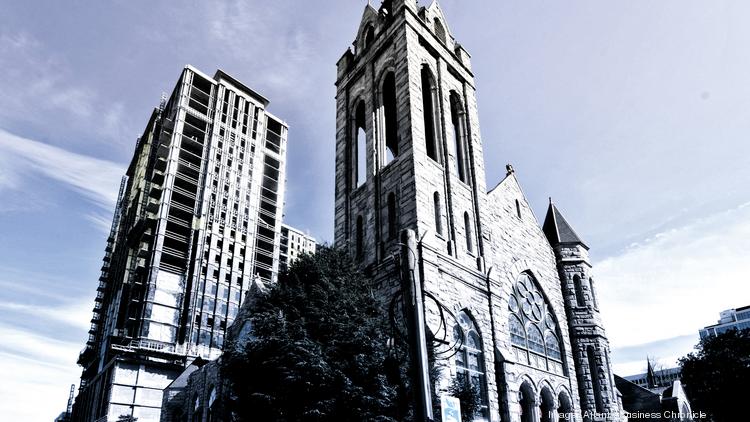 Surging demand
Parking lots, along with seas of broken glass and vice after dark, is what Green remembers of Midtown in the aftermath of the 1996 Olympics. There were MARTA stations within every quarter mile block off of Peachtree Street and a few office towers with "a real pioneer spirit," but the 1.2-mile core didn't have much fat on its bones.
The Midtown of today is a completely different beast.
"People might say [the market] has been saturated and is now fully mature," said Sebastian Drapac of Drapac Capital Partners, which sold Midtown's record-breaking parcel of land in December. "For me, it's like it's still the second quarter."
Since 1997, over 100 new office, residential, hotel and institutional buildings sprouted from the ground. Residential units have doubled, commercial property tax digest has more than tripled and institutional capital has poured in. New national names like Rockefeller are shimmying up to the city's longtime development strongholds.
The momentum hasn't slowed. In 2021 alone, 1.8 million square feet of office space and 645 residential units were delivered in Midtown.
Rising land values in the district indicate a surging demand and constraining supply, a dynamic playing out in gateway markets like New York, San Francisco or Los Angeles. This is partially true in Atlanta — pure dirt is sparse. Roughly 15-20% of the district is ripe for redevelopment, planning coalition Midtown Alliance estimates.
Some of this accounts for vacant parcels locked away by entrepreneurial landowners. Dewberry Capital Corporation — led by "Atlanta's emperor of empty lots," as Bloomberg once put it, John Dewberry — controls several undeveloped commercial sites, including 7.42 acres at along the east side of West Peachtree Street and 1.70 acres at along the east side of Peachtree Street between Beverly Road and Peachtree Circle.
Another chunk of the percentage for Midtown's large swaths of parking infrastructure. There are roughly 5,000 spaces spread across three parking garages on the West Peachtree Street Northwest, 4,160 spaces across three garages on Peachtree Street Northwest and 3,120 across three garages on Peachtree Street Northeast, as examples.
Vertically redeveloping parking structures helps to thwart razing over neighborhood landmarks to build anew. But it's not an outcome the city can completely avoid.
Two Midtown restaurants on Juniper Street — Einstein's and the neighboring Joe's on Juniper — were razed in late 2021 after Charleston-based developer Middle Street Partners bought the property to build two 38 and 30-story apartment towers. Both restaurants were stalwarts within the LGBTQ community for decades. American drag queen icon RuPaul lived next door to the property during the '90s.
The possibility of losing "sacred" landmarks like the Fox Theatre is out of the question, said Karl Smith-Davids, Senior Project Manager for Midtown Alliance.
But shaving off available land on some of these properties is not unfathomable. Construction unraveling on underused concrete at St. Mark United Methodist is an example of this, as are similar redevelopment projects going on at Big Bethel AME Church in Sweet Auburn and Atlanta First United Methodist Church at Peachtree Street.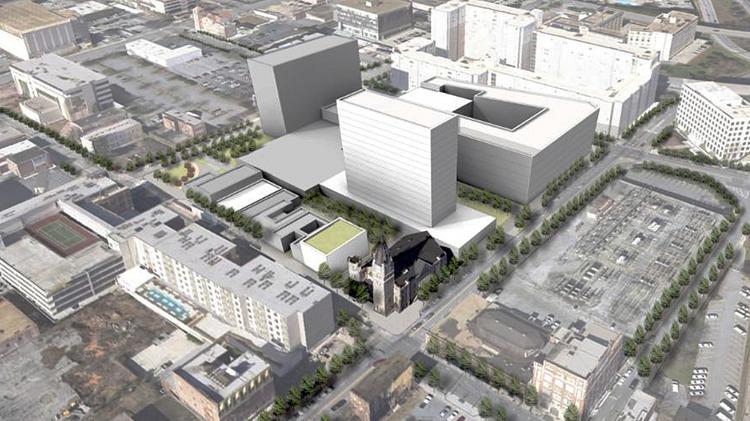 Mayor Andre Dickens is championing the redevelopment of church-owned land. Early into his first 100 days, he announced the creation of a grant to assist faith-based organizations with building affordable housing on their properties.
Cities cannot run out of room
All development inevitably comes with a tradeoff. Low-rise office buildings or stalwart parking structures of yesteryear will inevitably come down to satisfy the needs of a growing market. Apartments are primarily leading this charge, as the number of residents in the center of Midtown have doubled within the last decade.
But Green's idea of success in Midtown is not every square "getting developed with concrete, glass and steel," he said. It's creating an environment where open public spaces for people to gather and come together can coexist with corridors dense with development.
"That's among our opportunities and challenges. How do you do that with a place that's as hot of a market as Midtown? Because we're not just looking at what Midtown needs to be successful for the next five years, but what does it need to be successful for the next 50?" Green said.
Updated