General Electric Co. (NYSE: GE) has picked Atlanta as the North American headquarters of its Information Technology unit. The conglomerate will, over time, add more than 400 jobs in midtown Atlanta as it shutters the Fairfield, Conn.-based IT HQ and consolidates work from around the country.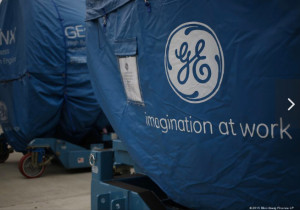 GE Digital Chief Technology Officer Chris Drumgoole will manage the Atlanta operation. GE Chief Information Officer Jim Fowler lives in Atlanta.
On June 9, Atlanta Business Chronicle first reported on San Ramon, Calf.-based GE Digital's plans to put a $3 million, 250-job IT center in Midtown. That facility will be GE's IT headquarters in North America. GE will, over time, relocate to Atlanta most of the 250 jobs at Fairfield. "There'll be jobs from all over GE moving (to Atlanta) over time," Fowler said. "As GE grows, you would expect the (Atlanta) operations to grow with it."
The majority of the initial 250 jobs being added in Atlanta are related to off-shored work outsourced to third-parties that will be brought in-house. The IT business is part of GE Digital, which applies Big Data technologies to help industrial companies manage assets and operations more efficiently. Big data refers to the crunching of massive and complex data sets that can't be processed by database management tools.
"At GE Digital, we connect streams of data and information coming from machines to analytics, artificial intelligence and machine learning and we are create new outcomes for industrial companies," Fowler said.
GE is in midst of its largest transformation in 100 years, Fowler said. "By putting software and analytics together with hardware and machines, we are able to create new levels of industrial productivity never possible before," he said.
Atlanta was picked for the North American HQ because of the quality and cost of talent in the area. "More than 130 Tier 1 CIOs are located in Atlanta (and) they come here for a reason," Fowler said. "Atlanta is a place where talent wants to live. The quality and the cost of talent can't be beaten anywhere else."
GE is considering 10 buildings around Georgia Tech for the IT hub, Fowler said. The company is likely to take temporary space in the city in the interim. One site could be Coda, a 750,000-square-foot office tower planned for Tech Square. That building, which will be anchored by Georgia Tech, is targeting companies who work on Big Data technologies, and would benefit from the in-house 40,000-square-foot data center. Coda, however, would not be ready until early 2019.
For GE, anchoring a big data hub in Atlanta makes sense. The Internet of Things hinges on a host of technologies including wireless connectivity, sensors, cybersecurity and data processing. As a telecom hub dating back to the days of BellSouth, Scientific Atlanta and Internet Security Systems, Metro Atlanta has capabilities and talent in those technologies. Startups such as Bastille and NexDefense — which protect Internet-connected devices and industrial equipment from cyberattack — have emerged in the city.
GE considered Atlanta for its global headquarters before settling on Boston.
Written by Urvaksh Karkaria for Atlanta Business Chronicle