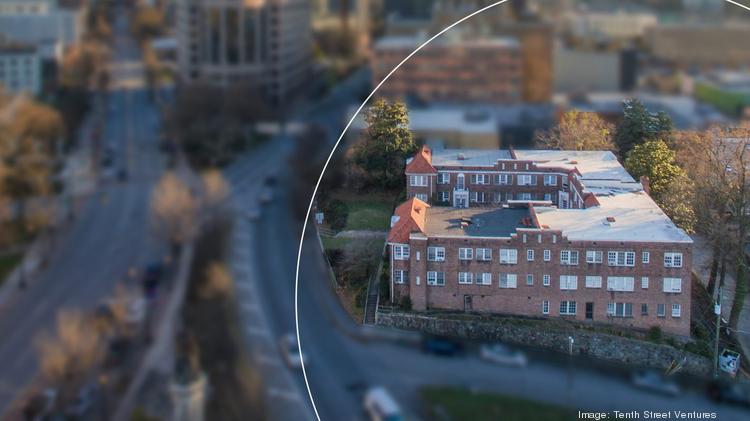 The Winnwood Apartments are located in Midtown, at the merger of Peachtree and West Peachtree streets.
An 90-year-old apartment building in Midtown may become the latest example of multifamily landlords opening their doors to Airbnb.
Atlanta real estate investor and developer Tenth Street Ventures bought The Winnwood, a nearly 1-acre property at 1460 West Peachtree Street near its connection with Peachtree and just north of office towers such as Pershing Park Plaza, the current home of the law firm Jones Day.
No sales price was given, and the transaction for The Winnwood was not available in Fulton County property records. The brick mid-rise building, which features Neoclassical Revival architecture, dates back to 1930.
The property had been owned by the same family for decades, part of the dwindling and still relatively affordable stock of older apartments that remain in the city. For now, most of the units have been vacated.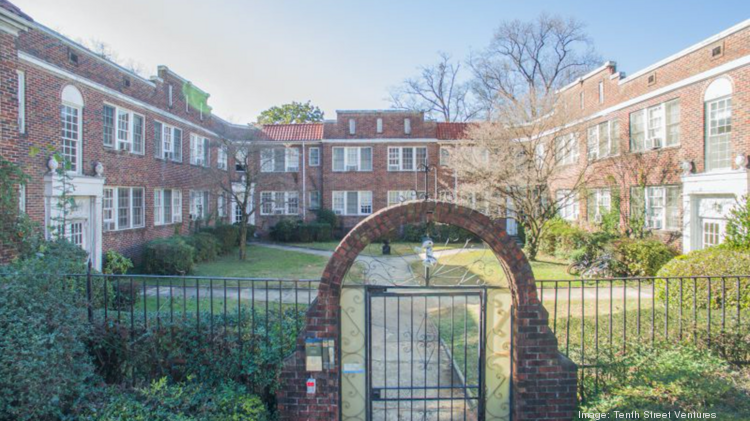 The Winnwood could follow the model of another recent Tenth Street Ventures project in Midtown, where it allows tenants to rent out their units as Airbnbs. It has rebranded that property on Piedmont Avenue as "Studio9Forty."
 It's an example of a
national trend
of apartment owners working with companies that rent out apartments to travelers. Brian McCarthy, a principal with Tenth Street, said it shows the lines between multifamily properties and hotels are starting to blur.
"Residential living is changing," he said. "The multifamily owners are looking at getting into hotels, and the boutique hotel owners are trying to get into multifamily."
Tenth Street plans to renovate The Winnwood, taking it from 26 units to 48. First, though, it will apply to receive historic designation for the apartments. It said it is evaluating the best way to redevelop the building, while preserving the Neoclassical Revival exterior.
McCarthy said the goal is to restore The Winnwood "to its historic glory."
The project has been a landmark in north Midtown for decades. The Whitehead family owned a house previously on the site. The property then remained in the family until the death of Cecil S. Whitehead a few years ago.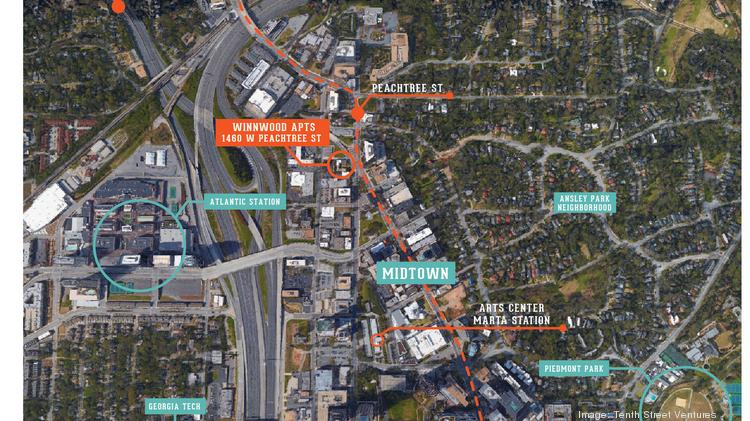 Tenth Street Ventures buys, designs and renovates properties, with the goal of keeping properties more affordable for the working class. The Winnwood is fifth major transaction by TSV over the past year.
By Douglas Sams
Commercial Real Estate Editor, Atlanta Business Chronicle
https://www.bizjournals.com/atlanta/news/2020/01/14/in-midtown-a-merger-with-the-old-and-new-at-a-90.html?iana=hpmvp_atl_news_headline