With more than 40 years in business under their belt, Owners Janice Phillips and Bob Orlowski are ready to retire.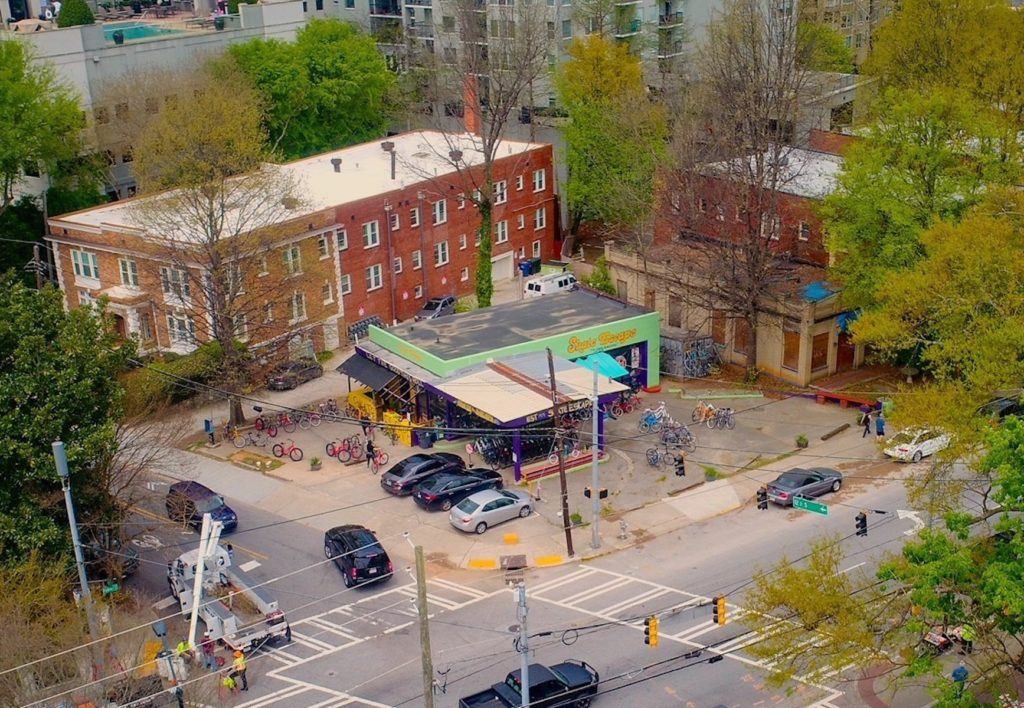 Skate Escape and its parcel of land which sits at the corner of 12th Street and Piedmont Avenue at the "front door of Piedmont Park" was recently re-listed for sale, Rob Kincheloe, the broker who holds the listing, Monday told What Now Atlanta (WNA) in a telephone interview. The sales price has not been disclosed.
The corner space, which has been home to the bike shop since 1979, was first listed for sale in February 2019 when Skate Escape Owners Janice Phillips and Bob Orlowski decided it was time to retire. Unfortunately, a deal that was under contract for the property, fell through, according to Kincheloe. This time around, Phillips and Orlowski wanted to be more public with the listing, so they had Kincheloe hang banners outside the bike shop recently.
But when the for-sale sign went up, so did suspicion from neighbors and passersby that Skate Escape had shuttered and was the latest victim of the novel coronavirus pandemic. Skate Escape is still open and "selling bikes like hotcakes," Kincheloe said. "Skate Escape will stay open until we find a buyer, and if the new buyer wants to keep operating a bike shop, it may never close."
The property is zoned for residential and retail and both industries have expressed interest in buying, according to Kincheloe.
"This is the first time the property has been available in 40 years. The adjacent property has been listed for 14 years but until the Skate Escape corner became available, there hasn't been much interest in that property. Now buyers are looking at both, together."
Tim Holdroyd, who represents the seller of the neighboring circa 1900s building, at 1094 Piedmont Ave NE, told WNA Monday that the properties are the "most complicated parcels of real estate in the City of Atlanta."
"In my opinion, both properties have to go together, but every sophisticated commercial real estate professional I know has looked at this property and determined it wasn't worth their time," Holdroyd said along with a laundry list of reasons why in 14 years he hasn't been able to get a deal done including zoning and building height restrictions, among other things.
Phillips and Orlowski at one point operated both buildings. The corner building, which dons the Skate Escape name, was built in 1948 as a service station and today acts as the bicycle repair shop and sales center. The older adjacent property, at 1094 Piedmont Ave., was originally an Anheuser-Busch yeast manufacturing facility and acted as the business' skate shop. They consolidated both the skate and bike shop several years back into the corner parcel property they own.
Skate Escape was not immediately available when reached by What Now Atlanta for comment Monday
By: Caleb J. Spivak (July 27, 2020 6:39 pm)
Link: https://whatnowatlanta.com/longstanding-skate-escape-publicly-re-listed-for-sale-after-deal-falls-through/