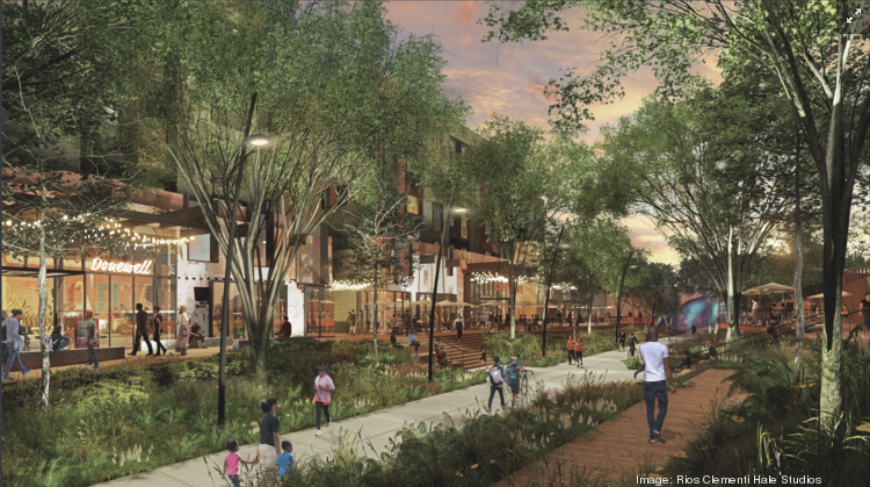 The architect of Echo Street West is known for designs of award-winning public spaces.
A planned $227 million office and residential development on Atlanta's Westside has cleared a major hurdle, landing just over $10 million in property tax reductions. The project at Donald Lee Hollowell Parkway and Northside Drive would include 278,100 square feet of creative office space, 50,700 square feet of commercial space, and a 5-story residential building with approximately 285 units.
Developer Lincoln Property Co. owns the 18-acre site, a collection of economically distressed properties along the former CSX Railroad "Kudzu Line." Lincoln has entered discussions with the Westside Future Fund on a community benefits agreement and could fund a portion of the deal, a representative of the developer told the Development Authority of Fulton County on Tuesday. The apartments will include 57 units marketed to households at 80% of Area Median Income. The Development Authority unanimously approved the property tax breaks. Over 10 years, the creative office development would receive just over $6.9 million in tax reductions, while the apartments get almost $3.3 million. The properties are currently generating about $44,000 in annual revenue, according to the Development Authority. The approval of the tax abatement was an important step in obtaining construction financing for the project. Discussions continue with potential lenders.
The properties to be redeveloped are part of an area that includes Georgia Tech's expansion into West Midtown and several new residential and office projects that are underway. A new Beltline Connector will run through the new project and link with areas of downtown including attractions such as Mercedes Benz Stadium. Lincoln Property is calling the new Westside development Echo Street West. In February, it landed prominent Los Angeles design firm Rios Clementi Hale Studios, which is known for its work on projects such as Grand Park in downtown LA and the Hollywood Bowl renovations. The firm has won awards for its design of outstanding urban spaces.
Echo Street West offers an example how newly proposed developments may bring significant changes to the Donald Lee Hollowell corridor and surrounding neighborhoods. Some changes are already underway. Just two miles west lies the new Bellwood Quarry Park and Grove Park, an area of Atlanta that has suffered decades of disinvestment and is now undergoing rapid redevelopment. Grove Park land and housing costs have soared. A few years ago, one of the neighborhood's early 20th century bungalows might have cost $80,000. Now they are listing for $300,000. Grove Park apartments, which once rented for $600 a month, are now leasing for over $1,200.
Atlanta Mayor Keisha Lance Bottoms earlier this year ordered a moratorium issuing new construction permits near Westside Park, citing the need "to address rapid gentrification occurring in the area." Echo Street West falls just outside the area of the new moratorium.
By 
Douglas Sams
  Commercial Real Estate Editor, Atlanta Business Chronicle