The Midtown boom continues with 16 active construction projects underway, according to a report from the Midtown Alliance. The majority of the projects are mixed-use residential apartments and condo buildings that will add 4,000-plus residential units and 100,000 square feet of retail space to the district.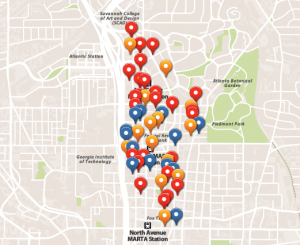 On the office side, construction crews have begun work on Fortune 500 company NCR's global headquarters at Spring Street and 8th Street, placing the tech giant near Georgia Tech's Technology Square. Construction is anticipated to be finished in 2018, and once completed, will add 500,000-plus square feet of office space and labs.
Several projects were completed this year, including two new major residential developments—University House Midtown and Square on Fifth—which moved 1,300 students into the heart of Tech Square during the summer of 2015. The Center for Puppetry Arts also wrapped up the 8,000 square foot expansion of their Spring Street location, making room for new cultural attraction the Worlds of Puppetry Museum and the most comprehensive collection of Jim Henson-designed puppets.
As the year comes to a close, just shy of 40 development projects are now either under construction or in design, having cleared the Midtown Development Review Committee (DRC). Among these are a dual-branded hotel on 14th Street at Peachtree Walk, a Whole Foods store, the redevelopment and expansion of SCAD's student housing campus Spring House, and a collection of mixed-use residential buildings that range from a 28-story tower to a 4-story infill project.
To see a list and renderings of all the projects, take a look at the Midtown Alliance's handy Development Tour.
-Written by Collin Kelley for Intown Atlanta