Big Brothers Big Sisters of Metro Atlanta is selling its Midtown headquarters in a move that could bring the nearly 60-year-old organization several million dollars it could put toward its mission.
The property, with slightly more than half an acre at 17th and Peachtree streets, has location going for it. At just over 30,000 square feet, the Big Brothers Big Sisters headquarters is surrounded by nearly a half-billion dollars in new or ongoing projects.
For example, it's a block from the planned 9-acre Midtown Union development at 17th, Spring and West Peachtree, which could include a 25-story office tower, 250-key hotel, up to 350 apartments and close to 90,000 square feet of retail.
A block east, Parkside Partners is making over a series of Midtown buildings into creative office space, with restaurants, a coffee shop and a 300-foot linear park.
Big Brothers Big Sisters bought its headquarters at 1382 Peachtree in 2011 for $4.2 million, according to Fulton County property records. It was the former home of architecture firm Perkins & Will.
The organization wants to sell the building this year and move out in 2020.
Proceeds from the sale could be a boon for its overarching hopes of addressing severe poverty in American families and finding young men to serve as mentors for boys who have grown up without a father figure. The agency has a similar program for young women and girls.
"We are not putting a price on the building," said Kwame Johnson, CEO of Big Brothers Big Sisters. "We are going to let the market set the price."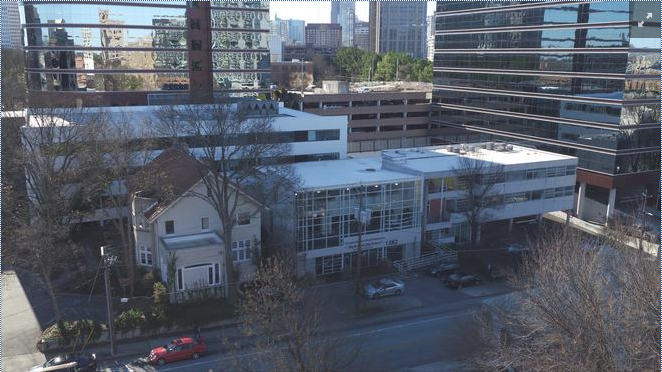 Big Brothers Big Sisters of Metro Atlanta is selling its building at 1382 Peachtree Street in Midtown, on the corner of 17th Street. – BYRON E. SMALL
Johnson could be happy with the market, if recent sales and broker estimates are any indication. In late 2017, Parkside paid $19 million for the three nearby Midtown office buildings at 17th and Peachtree.
Several brokers estimated the Big Brothers Big Sisters property could sell for at least $6 million and possibly up to $8 million. It may be more attractive as a redevelopment. The brokers were unable to speak on the record because of confidentiality agreements.
The property is being marketed by Colliers International-Atlanta.
"How often can you find a nicely renovated building in the strongest market in the Southeast?" asked Colliers' Michael Lipton, who is working on the project with colleague Jodi Selvey. Lipton could not put an asking price on the building.
Finding a buyer to occupy or redevelop the headquarters are both options, said Michele Pearce, chief external relations officer with the nonprofit.
A piece of the property includes a house built near the turn of the 20th century. The rest of the headquarters was expanded and renovated by former owner Perkins & Will, nearly 100 years later.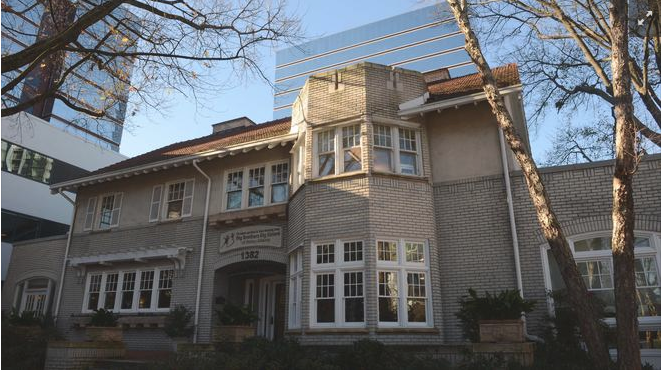 The house could be preserved, as it's one of the few remaining examples of residential mansions on Peachtree, Pearce said.
When Big Brothers Big Sisters bought the current headquarters eight years ago, it offered room to grow to more than 75 employees. Today, it has about 50 staff and the urban landscape has become more crowded and expensive.
Rents have soared to record highs across several U.S. cities including Atlanta. As a result, urban dwellers of all sizes, from fresh college graduates to major corporations, are seeking smaller spaces to live and work.
It's no different for Big Brothers Big Sisters.
"We need to downsize," Johnson said, suggesting the organization could squeeze into as little as 15,000 square feet.
Its move also comes as the city is still grappling with a long-term challenge of income inequality. In fact, Atlanta had the largest income inequality in the nation as of last year, according to the Brookings Institute.
At the same time, as the city of Atlanta comes off its largest single-year population increase in more than a decade, land and residential costs continue to climb — exacerbating the lack of affordable housing.
As the organization explores the sale of its headquarters and eventual relocation — possibly somewhere close to transit — Big Brothers Big Sisters will create a new model featuring a central location and satellite offices in the hardest-hit communities.
It will likely carry out its plan with other nonprofits focused on a similar mission.
Even as the United States enjoys one of its longest and most prosperous economic periods, many families remain in trouble, making the role of Big Brothers and Big Sisters critical. Consider that nearly 500,000 children in the 13-county metro Atlanta region live in low or very low child well-being, according to data from the United Way.
Big Brothers Big Sisters has about 400 boys and 100 girls on a waiting lists.
"We are laser-focused on poverty," Johnson said.
By Maria Saporta and Douglas Sams – Atlanta Business Chronicle