How the renovated structure meets a busy section of Monroe Drive. Photos courtesy of
Autohaus Social
Thanks to the recent rehab of an ailing 1950s building in a highly trafficked location, intown automobile enthusiasts near Piedmont Park no longer need to head OTP or visit corporate dealerships when it's time to service European cars.
Or when it's time to socialize.
At Autohaus Social, located on Monroe Drive near the intersection of Boulevard, just south of the park, owners of European cars—think Porsche, Volkswagen, Audi, Land Rover, Mercedes-Benz, BMW, and Mini—can now take their cars in for regular maintenance, diagnostics and repair, alignment, and other automotive services.
An auto shop in such a walkable location may seem unusual to urbanists, but owner Nash Tehrani calls it the perfect spot.
"Two main reasons I chose this location, as opposed to the conventional areas for an automotive shop, were that I wanted to invest in the neighborhood I grew up in, and, also, I wanted to provide a necessity to the intown families," Tehrani said in an interview with Curbed Atlanta.
Built in 1952, the building originally served as an automotive brake and transmission repair shop, but more recently was known as The Step Up Society thrift store.

However, at the time Tehrani purchased the property, it was vacant and sorely neglected.
"The building was literally about to collapse on itself," Tehrani said. "A lot was invested into the structural support of the building."
That included installing a metal frame throughout the interior, as well as nine sets of helical piers and nine sets of vertical pylons. In addition, the damaged asphalt on the lot was replaced with permeable stone pavers, which help reduce water runoff and minimize stormwater issues.
Tehrani enlisted the services of architect Sarah Butler of Praxis3 to create the design and Lichty Commercial Construction to turn it into reality. Today, the facility includes 4,000 square feet of garage space, a reception area, a downstairs lounge, and an upstairs game room.

Yes, a game room. "The footprint of the building worked perfectly for what I had envisioned," Tehrani said. "A portion of the building is used for social events and entertainment. The other portion is used as support space to provide service, repair, and performance upgrades for European automobiles."
It took two years and approximately $2 million to complete the renovation. Open since September, Tehrani said he's receiving positive feedback from both locals and customers.
"People who knew what was here before have come in just to thank me for the renovation," he said. "People who have used our services expressed their gratitude that they have a dealership alternative, and it's located so close to their homes."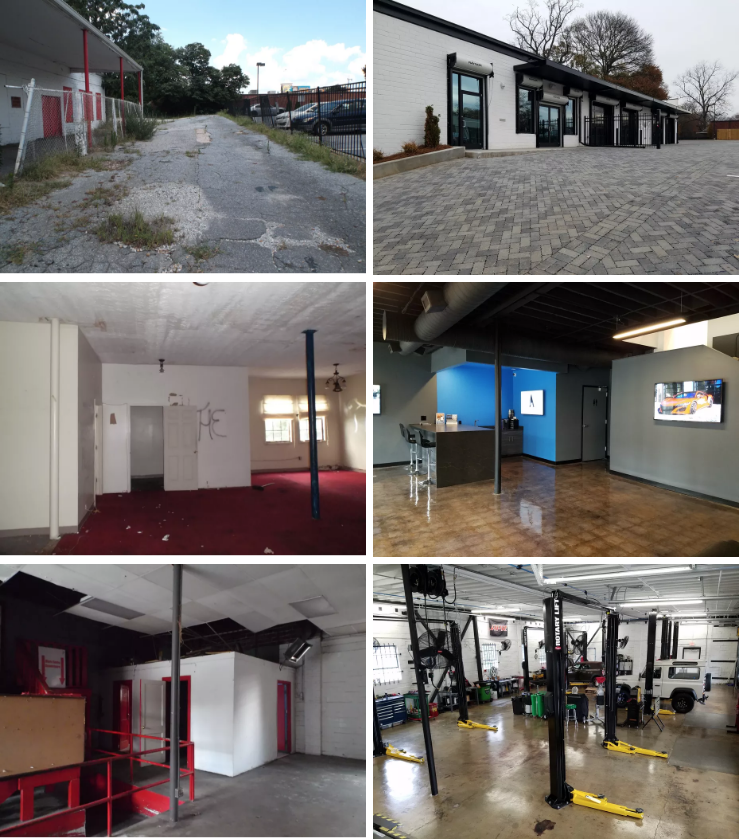 By Karon Warren
– Curbed
Atlanta