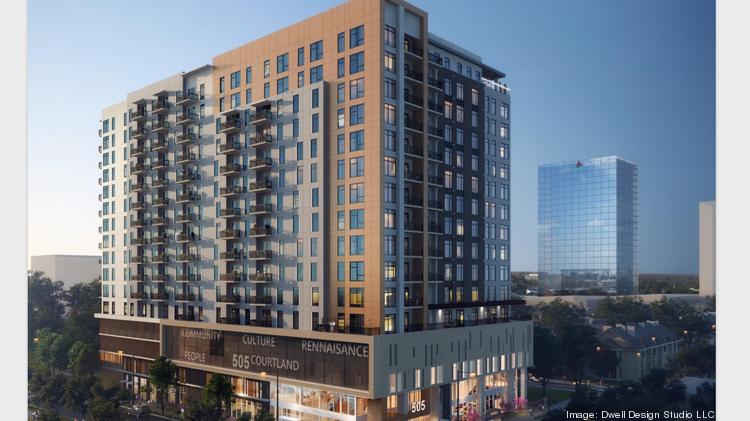 A 16-story apartment tower is the latest project sparking long-awaited revitalization within Atlanta's SoNo district.
Woodfield Development just purchased the nearly 1.1-acre site at 505 Courtland St. where it will build the 284-unit project. It's the first residential tower to be developed in SoNo in the past 10 years.
Woodfield paid just under $7.9 million for the development site, a record price in SoNo based on a land per square foot value. It's a reminder of the new investment finally pouring into the area.
While SoNo features Atlanta landmarks such as the 55-story gold-crowned Bank of America Plaza, for years development has been sluggish compared with other parts of the city such a Midtown, West Midtown and areas along the Beltline Eastside Trail.
But Australian real estate firm Drapac Capital Partners believed in SoNo. Five years ago, it paid just over $1.7 million for the site at 505 Courtland, then sold it to Woodfield this month for nearly five times that value.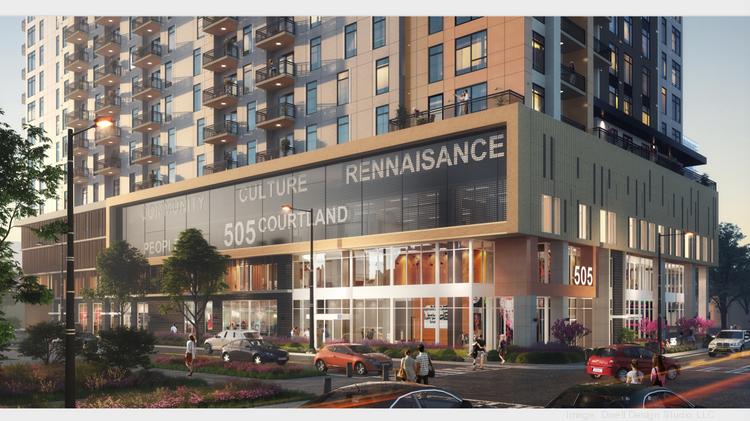 The project will add 284 apartment to the SONO district of Atlanta, an area between Midtown and downtown that includes the Emory University hospital campus.
Chief Operating Officer Sebastian Drapac said in a release about the sale that a surge of more development into SoNo stems from "a serious shortage of sites in Midtown." Drapac also suggested more projects could be coming to the neighborhood, which has long been a gap between Midtown and Downtown.
"We need to remember that Atlanta's rapid urbanization story is still in its infancy," Drapac said.
Lenders are also buying into SoNo's renewal. Santander Bank N.A. is providing a $54.7 million construction loan for the nearly $90 million apartment tower, according to Fulton County property deeds. Woodfield's Patrick Kassin said his firm will break ground on the project in September.
Commercial Real Estate giant Jones Lang LaSalle (NYSE: JLL) marketed the site. JLL's Scott Cullen said the tower "will be a shot in the arm for further development." Emory University is a catalyst. Just one block west of Woodfield's project, Emory started construction on a 17-story cancer treatment tower. A few blocks away, Atlanta developer Portman Holdings is working on a proposal with MARTA to develop a 480,000-square-foot office tower and 275-room hotel over the North Avenue transit station.
Almost 1,650 residential units are already under construction in downtown Atlanta, according to Central Atlanta Progress, a group of business leaders and planners that guide development. Another 6,000 downtown units are in planning.
The mini-residential boom has sparked the need for more pedestrian-oriented streets. The city's Department of City Planning has studiedtransforming downtown's Peachtree Street, from North Avenue to Marietta Street, into a less car-centric corridor.
By Douglas Sams  – Commercial Real Estate Editor, Atlanta Business Chronicle (August 31, 2020)
Link: https://www.bizjournals.com/atlanta/news/2020/08/31/woodfield-development-buys-atlanta-site.html